"I've never been so afraid of a woman."
"I suddenly regret those comments about getting tail at the tavern." -Pakwuk and Twitterman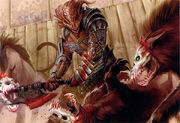 Race: Dray (Dragonborn)
Class: Barbarian
Affiliation: Knights of Morgnan
Woke up robot, got personal robacca. 
Ad blocker interference detected!
Wikia is a free-to-use site that makes money from advertising. We have a modified experience for viewers using ad blockers

Wikia is not accessible if you've made further modifications. Remove the custom ad blocker rule(s) and the page will load as expected.