"A dragon-hunting weapon from the second era. Its owner was a Turathi emperor, a deific hunter of dragons." -Rangrim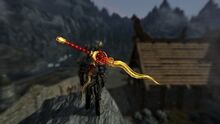 Maker: Bael Turath
Material: Silver-inlaid Steel
Unique Attributes: Dragon Bane
Qualities
Edit
You gain a +1 bonus to attack and damage rolls made with this magic weapon. When you hit a dragon with this weapon, the dragon takes an extra 3d6 damage of the weapon's type. For the purpose of this weapon, "dragon" refers to any creature with the dragon type, including dragon turtles and wyverns.
Ad blocker interference detected!
Wikia is a free-to-use site that makes money from advertising. We have a modified experience for viewers using ad blockers

Wikia is not accessible if you've made further modifications. Remove the custom ad blocker rule(s) and the page will load as expected.