"It will freeze you from within until all that remains is an icy husk." -Rangrim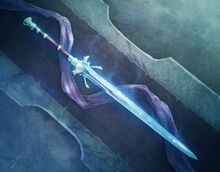 Maker: Giants
Material: Elemental Water-infused Steel
Unique Attributes: Freezing
Qualities
Edit
When you hit with an attack using this magic sword, the target takes an extra 1d6 cold damage. In addition, while you hold the sword, you have resistance to fire damage. In freezing temperatures, the blade sheds bright light in a 10-foot radius and dim light for an additional 10 feet. When you draw this weapon, you can extinguish all nonmagical flames within 30 feet of you. This property can be used no more than once per hour.
Ad blocker interference detected!
Wikia is a free-to-use site that makes money from advertising. We have a modified experience for viewers using ad blockers

Wikia is not accessible if you've made further modifications. Remove the custom ad blocker rule(s) and the page will load as expected.