"Thank you. I cannot beat the Arkhosian's remarks, but we are prepared to do whatever we can, within reason, whether you need resources or a chest of gold, to get your support. And you should know the Arkhosians treat their allies like slaves. I can get that in writing from the Yuan-Ti king. That's why you should pick me, because I'll do anything, within reason. Thank you."
"Shut up... Just shut up and sit down..." -Gor and Alec Quinn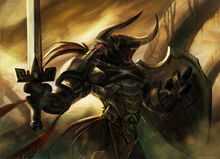 Race: Minotaur
Class: Warlord
Affiliation: Empire of Bael Turath
Slave in Baldur's Gate, granted his freedom when he slew Norok the Dragon, and became the legendary Dragon Slayer.
Ad blocker interference detected!
Wikia is a free-to-use site that makes money from advertising. We have a modified experience for viewers using ad blockers

Wikia is not accessible if you've made further modifications. Remove the custom ad blocker rule(s) and the page will load as expected.