"Minotaurs are more than mindless animals. Each of us battles the beast within, and only those who prove themselves in that battle are acknowledged." -Oestra
Homeland: Prontera
The Minotaur culture is centered around warfare; the societal ranks of both males and females are decided by their ability to kill. Minotaurs are a tribal race, and each tribe is under the authority of a warchief. These tribes often fight each other as well as human settlements or cities. Minotaurs are known to fight both alone and in groups. 
Minotaur villages are well-hidden and well-protected, residing in well-defended caves, and in the Zagraz mountain region most avoid. The villages contain carved animal motifs from logs which stand vertical, which the Minotaurs believe will scare off animals that the motifs represent. Minotaur families weave an ornate piece of cloth that hangs outside the family's cave and describes their own history.
When a male Minotaur's horns begin to show, he must go into the wilderness and kill an animal to prove himself. Most young Minotaurs hunt mountain goats, wolves, or other less threatening prey. However, ambitious young Minotaurs have been known to hunt bears. The Minotaur diet consists of mainly meat, venison, giant boar, bear, fowl, and wild roots, berries and leaves. The meat was usually roasted or put into a stew cooked in a leather pot using hot stones with tubers and leaves. Male Minotaurs wore loincloths, though during battle they donned metal and leather armor.
Just as men hated Minotaurs, Minotaurs hated men. Minotaur legends portrayed the mankind as spoiled and evil. This age-old hatred led to many wars, with heroes and villains on both sides. Minotaurs have signed peace treaties with other races, but they rarely last, as the entire Minotaur culture is based upon war. The young must win a mate by proving themselves in combat, and they often attack those with whom they have treaties.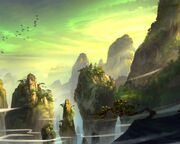 The Minotaurs are a military culture and their society, technology and relationships are very much focused on supporting war. Society is built around military units which Minotaurs become a part of from childhood. Non-military tasks, such as farming and trade, can be left to the young, retired, and injured. But no matter a Minotaur's vocation they are always viewed as a warrior and view life like a warrior. Weakness and foolishness from individuals is viewed with particular contempt, some of such acts can result in a Minotaur's name being struck from the family history.
Minotaurs on occasion mate for life, but most relationships are more casual than that. Families are recognized but adult Minotaurs have very little contact with their parents or offspring, but sometimes keep tabs on each other for events which could reflect back on the family's reputation. As soon a young Minotaur is weaned, around being a year old, they enter a warband of one of their parents' legion. This is their first warband and they are trained as a military unit under supervision of an adult and are considered an adult when the warband no longer needs supervision. The young Minotaurs are taught to unify and define their own social structure and the warband shares a root name which they incorporate into their surname.
While ancestry is known and acknowledged, the parents have little to do with the raising of the young, and as such warbands are viewed as a Minotaur's family and the bonds of loyalty and kinship formed between them are stronger than those of other races' families. Though some Minotaurs leave, change, or lose their warbands, these strong bonds usually leave a deep impact on the Minotaur; Minotaurs changing warband must change their name and fit in quickly if they are to survive. 
The Minotaurs are highly industrious, and are renowned and feared for their military technology — weapon development, war machines and mass production. However, not all of their advancements involve weapons—they also make some of the finest clockwork and spring-driven devices in Prontera. While the average Minotaur is willing to embrace technology, many view the use of magic as a sign of weakness and will distrust magic-users as a whole. Much of their land has been converted to ranches and fields for herding and growing of winter feed for the animals. Cattle, sheep, and warthogs are their primary sources of food.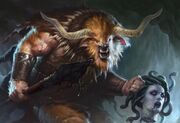 All warriors command respect, but the Minotaur berserker is an unrelenting physical force. As the name suggests, berserkers are known for their rage and risk-taking, and that is certainly part of their effectiveness, but it would be a grave mistake to suggest that the berserkers are sloppy or undisciplined. It takes an incredible amount of control to know when to lose control. Anger is only part of being a berserker. Anyone can fly into a rage, but only a berserker can channel that anger into brutal hits that cleave through armor, flesh, and bone. Battle momentum is the key; finding the balance between total commitment and over extending. The berserker controls the pace of combat, setting a standard that the enemy can't match. In turn, they can be sustained by the mayhem they produce, and find new energy in every fallen foe. While they stand, while stamina remains, they have no match, but they can't stand back and let battle unfold. For the berserker, battle always ends in glory, win or lose. 
Ad blocker interference detected!
Wikia is a free-to-use site that makes money from advertising. We have a modified experience for viewers using ad blockers

Wikia is not accessible if you've made further modifications. Remove the custom ad blocker rule(s) and the page will load as expected.